Mohammed Siraj: A Rookie Turned Game-Changer
Mohammed Siraj was only 20 and just a net bowler when he approached Bharat Arun with a proposition of giving him some encouragement and backing and returning the help with his promising talent and bowling performance. He had been called up to bowl to the Kings XI Punjab batsmen during the 2014 IPL in Hyderabad. As the bowling coach of the team at that time, Arun was around guiding the practice session. He had never met or heard of Siraj before. But the lad's enormous morale had made an impact on him.
Siraj, as it turned out had been a part of his state's under-22 team that year. In a year, he was making his first-class debut for Hyderabad. Just a season later, Arun and he would carry on with being each other's acquaintances, establishing a mentor-pupil relationship that would go on to become an essential catalyst in the young seamer's development. To add to it, the rapport between them continued to foster even after the former India fast bowler quit as Hyderabad coach and resumed his duties with the Indian team.
 Although, it's the phone calls that Arun would receive from him during the period post-2016, that in fact, that made the coach believe that Siraj's confidence and grit alone could bring him laurels, keeping his superabundant skills aside. And the preface of the talks between them would more or less be the same each time in which Siraj used to ask Arun, "Now that I have played a lot of India A cricket too when are you calling me up to the Indian team?"
However, even Arun couldn't have expected how that intrinsic self-confidence and resilience would turn Siraj into an overnight sensation when that call did finally come. Since, during this roller coaster of a Test series, the 26-year-old new-ball-bowler has not only won hearts over in India and Australia but also across the whole cricketing fraternity. In the same way, he had promised his "role model turned lifelong guide" during their first meeting, Siraj has proved that he is really made and bred for the big league. And that all he ever needed was some backing and encouragement.
It's hard to deny the fact that Siraj was one of the best bowlers in the Test matches that he played in the series down under. It was only fitting that he would be the man leading the Indian team off the field for the final time in the recently concluded Test Series. That was his last job with the ball on tour, would be holding it up to loud cheers from everyone at the Gabba after his maiden five-wicket haul. And most importantly that, he would display a very touching moment by raising both his hands in the direction of the heavens to pay his respects to his deceased father.
It was a testimony to how much he has grown as a cricketer over the last few weeks. It was a sign of how far he had come as a person in the last two to three months. The tears in his eyes as he stood singing the national anthem before the start of the game, and going straight into Jasprit Bumrah's outstretched arms as he crossed the ropes after the end of the day, was an indicator that this is still the start of Mohammed Siraj's career and he indeed has taken the first step towards a long journey.
In Melbourne on debut, Siraj bowled as if he had already played 50 tests. In Sydney, Siraj bowled with that maturity which someone with 50 tests would have displayed. In Brisbane, the situation demanded him to play the role of someone with an experience of 50 tests, to be able to lead a rather inexperienced bowling attack. And in each of the trying situations, he played and looked like he owned the proceedings in every outing.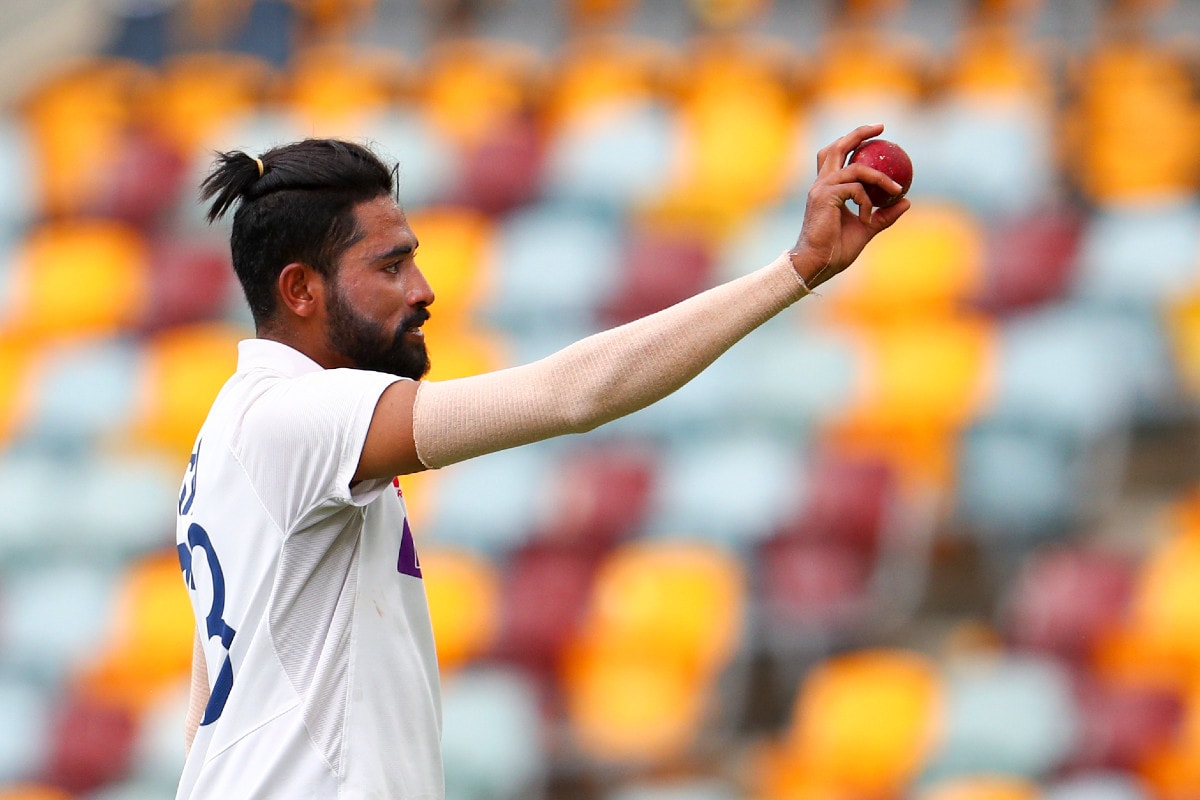 In different circumstances, faced with varied challenges, Siraj has shown his grit to stick to what he does best and it is his intensity that at many times has kept India afloat from drowning in the series. It was not unnoticed that he was missing the support from Bumrah at the other end in the preliminary session of Australia's first innings at the Gabba. Instead of letting that hardship get to him, he rather took on Bumrah's role of being the leader of the bowling attack. 
It was the fielding coach R Sridhar who Siraj would approach first with the complaint about the crowd abusing him at the SCG. And yet again he jumped another hurdle placed in his way as usual by silencing the abuses with his bowling performance.
Deep inside his heart, Siraj knew he was going to make it. He believed in himself ending up as the star of the show. He undoubtedly had his father's blessing with him but he also had the self-belief and grit in him that drove him every single day he woke up. And just like that he had left a lasting mark on Bharat Arun with his compelling confidence all those years back and here is to hoping that he carries on this momentum and resilience and turns it into a good and fruitful career in the years to come.